All About the
USA Publications
The USA Publications is the official student press corps of the University of San Agustin, Iloilo City, Philippines. It has served as a venue for free expression and intellectual dialogue since its founding in 1928 through the efforts of Jose Mijares and Jose Garcia-Sanchez, insofar as it has set the path for student involvement and active participation. Its unwavering commitment to providing responsive, developmental, and research-based campus journalism is bound by the shared values of truth, courage, and commitment through cutting-edge stories, enriched by Augustinian action.
The USA Pub continues to publish The Augustinian Mirror (Magazine), The Augustinian (Tabloid and E-Newspaper), Irong-irong (Literary Folio), and Dingding ni Gusting (Wall Newspaper) that reap awards in both local and national scenes. Not only does it strive for excellence in the field of campus journalism, but it is also a record of journalistic distinction, with its members continually adding to the Publications' laurels, rather than resting on them.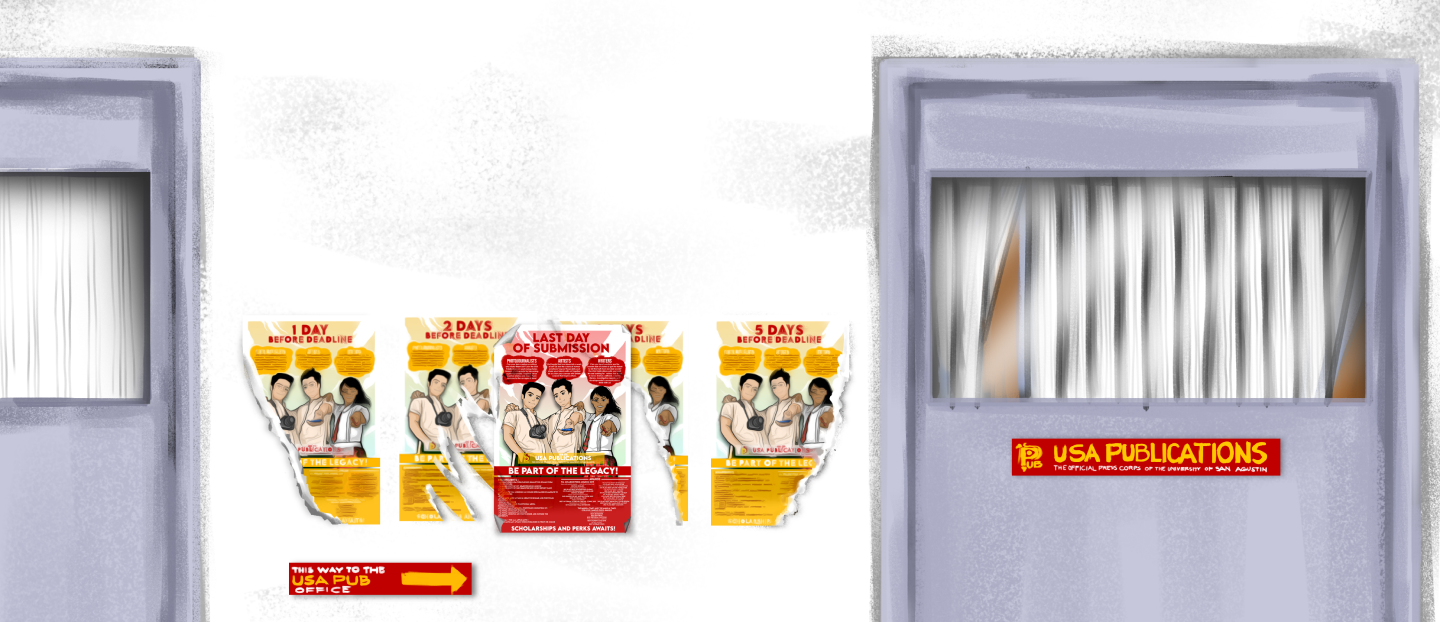 Our Vision
The USA Publications is an Augustinian center of campus journalism, fostering the advocacy of the common good and acting as the voice of the student body through responsive, developmental, and research-based campus journalism.
Our Mission
The USA Publications dedicates itself to promoting campus journalism inspired by Augustinian ideals through publishing papers upholding Augustinian values, building linkages and partnerships, enhancing the capabilities of the staff, and maximizing the use of adequate equipment and facilities.
The Editorial Board
The Executive Team
Pia Victoria E. Graza

Editor-In-Chief

Joewen Ray L. Ducado

Managing Editor

Mia Hart I. Jaranilla

Associate Editor

Pauline Marie C. Arada

Associate Editor

Maria Cristy E. Daguay

Moderator
Program Management Team
Mary Colleen Faith J. Salcedo

Program Management Director

Syrell Doanne V. Nietes

Staff Writer

John Carl B. Barredo

Staff Writer

Faridah Tania S. Dairo

Staff Writer
Digital Media Team
Martin Jae U. Querubin

Digital Media Director

Benz Xedric D. Puig

Digital Media Staff

Steven John N. Sumbing

Digital Media Staff

Anthony Jay O. Bueno

Digital Media Staff
Community Affairs Team
Marjhil D. Gadon

Community Editor

Stella Marie M. Hubo

Staff Writer

John Kyle L. Bañares

Staff Writer
Creative Writing Team
Kyla Presmei C. Depakakibo

Literary Editor

Hannah Jhanylle C, Po

Digital Media Director

Lorenz Jude C. Celoso

Staff Writer
Art and Design Team
Dylan Jacob K. Suarez

Art and Design Director

Dianne Nayeli B. Montero

Staff Artist

Carl Evans H. Jover

Staff Artist

Exequiel John Ampunan

Staff Artist

Rhiannah Catherynn G. Salinas

Staff Artist

Joshua Patrick C. Santillan

Staff Artist
Photography Team
Jedro L, Cawaling

Photography Director

Angel Grace O. Octoso

Staff Photographer

Alessa Q. Moreno

Staff Photographer

Airha Kate V. Lazaro

Staff Photographer
ㅤㅤㅤㅤ
Pauline Marie C. Arada

Financial Manager

Joshua Patrick C. Santillan

Editorial Assistant